Abed's Alien Costume (Community) for Cosplay & Halloween
How to dress like Abed's Alien Outfit
As mentioned, Abed's Alien costume was something to talk about because it looked creative and a lot of fun, yet it was confusing for some fans wouldn't know it was an Alien costume if Troy didn't show up in the Exo-suit. So Abed's Alien costume is arguably the best worst costume ever. A lot of fans are trying to replicate the costume, yet it's not so easy because the costume was specially made for the show. But here's our effort to guide you to recreate Abed's Alien look!
Abed's Alien Costume Items
| # | Item | Description |
| --- | --- | --- |
| 1 | Full Body Wetsuit | Abed wears a black spandex-like full bodysuit, however, a wetsuit gives sportier but less ridiculous look |
| 2 | Black Adjustable Belt Suspender and Harness | You can also choose the different styles, however to color should still be black |
| 3 | Vintage Metal Leather | Abed has wear a big black metal leather in the photo. Keep in mind that you must get the belt the right color and the appropriate size (not too small) |
| 4 | Black Claw Gloves | To emphasize that the alien is a dangerous creature, Abed also put on claw gloves. Noted that you should search for the gloves that looks less cartoony as much as possible |
| 5 | Black Rubber Boots | You can actually choose any kind of shoes you like, but they must be in black so it goes with the outfit |
| 6 | Black Pipe Insulation | These two materials allow you to decorate your Alien costume as Abed did |
| 7 | Black Electrical Tape | Look up design for Abed's helmet |
| 8 | Black Motorcycle Helmet | Finish you look with a motorcycle helmet of your choice, just make sure it's black with no graffiti or pattern |
About Abed Alien Costume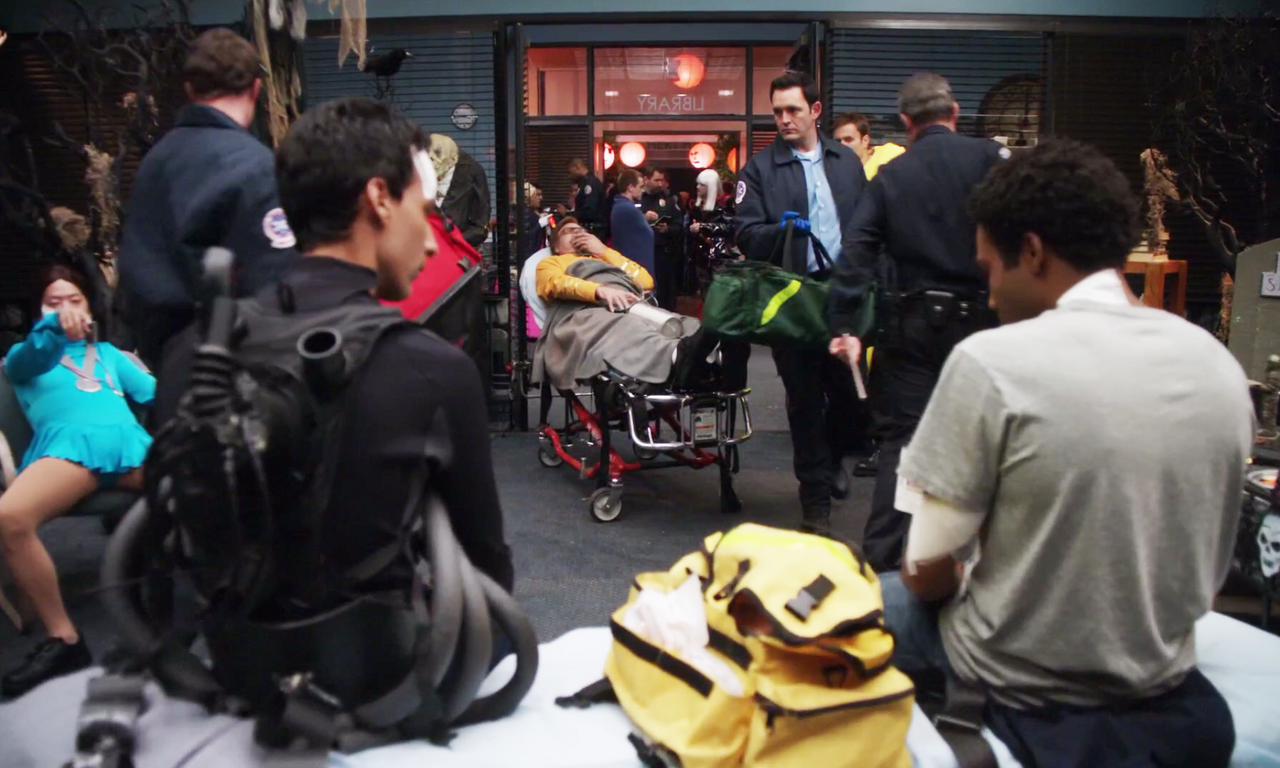 "Alien" (1979) is one of all-time favorite Sci-fi, thriller movie franchises, and it undoubtedly has taken parts in the pop culture even todays. Thus time and time, the audience get to see Alien-inspired films one after another. However, Alien could also transform itself from a bloody thriller to a comedic material in an NBC show or sitcom like "Community," the show is about hilarious relationship and experience of students in Greendale Community College.
In Halloween special episode of season 2, one of main characters "Abed," played by Danny Pudi, put on an Alien costume. The look was well received among the audience for how creative it was. Abed and his best friends, Troy Barnes, played by Donald Glover, put on a mini show at the party where he wore the Alien costume and Troy Ripley costume – Ripley is the protagonist in Alien, and Aliens' rival.