10 of the Best Costumes Ideas for Baby Girls & Boys for Cosplay & Halloween 2020
It's baby's first costume! And you still don't know what to dress him up as.
You should definitely make it memorable! Getting your little one dressed up is always an exciting and mind boggling task. There are just so many choices out there! Whether you want to go creepy all the way or stay fairytale romantic, costume hunting can be overwhelming.
So to help all you panicking moms and dads out there, here's a list of the top 10 baby costumes you can get for your precious toddler:
1. Baby Groot from Guardians of the Galaxy
Groot is one of the cutest fan favorites in the Marvel Cinematic Universe. He was adorable as an adult but people really fell in love with him as Baby Groot. This little alien tree on a pot was just an immensely delightful addition to the group. Your little baby can look as adorable as Groot and will definitely get a lot of praises!
What you will need: a medium-sized flower pot, brown long-sleeved onesie, olive green beanie, and brown and olive green strips of fabric
2. Baby Moana from Disney's Moana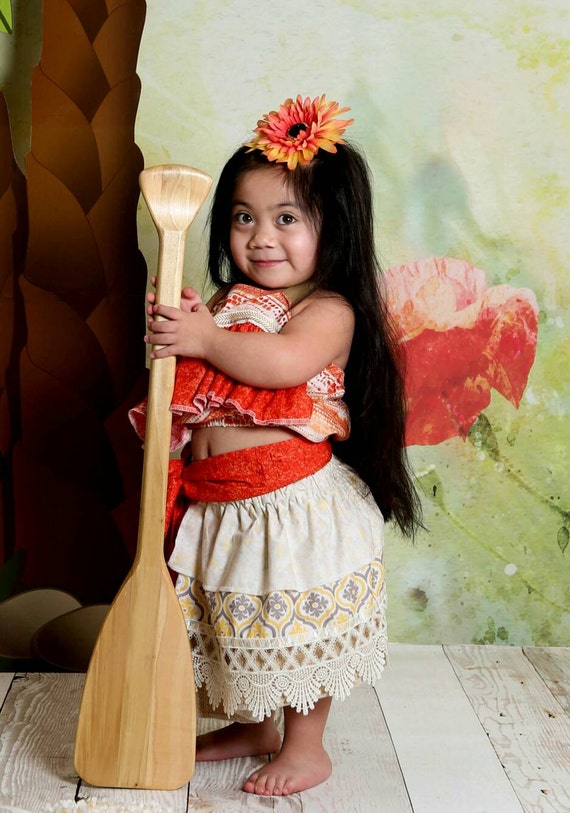 Let your precious princess become one with the Ocean. Moana's a really good role model to follow. She's ambitious, determined, and independent. What better qualities can you ask for, right? But this Disney princess is also inquisitive and brave. Channel ocean waves and island life as this little Polynesian princess!
What you will need: orange patterned halter top, cream patterned skirt with an orange fabric belt, orange flower, and mini oar
3. Baby Troll from Trolls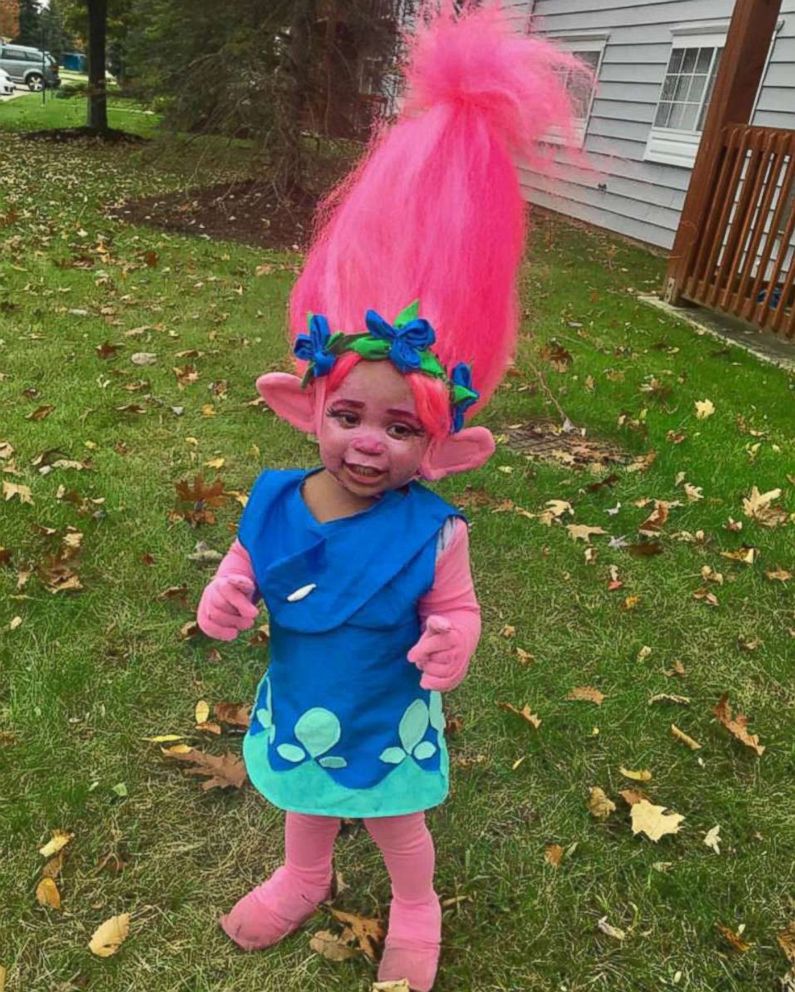 Show your baby's true colors by being a colorful and fun-loving Troll! Being a troll means getting in all kinds of trouble while having the time of your life. Sound familiar? Probably, since toddlers are the same! Halloween isn't just about being as scary as you can possibly get. Being a colorful, magical being is also a path that you can follow.
What you will need: a pink Trolls wig, huge pink ears, long-sleeved pink gloves, pink leggings, pink shoes, a bright blue Sunday dress, a blue flower crown, and non-toxic face paint
4. Baby Pumpkin
Ahh, the classic baby costume! Carving a pumpkin for Halloween is one tradition that many people continue to love. It's no surprise that it became a favorite costume for babies when it came out. There are so many pumpkin costume variations out there that you can try, and it's all widely available. You can get the one-piece suit from a lot of stores or get a knitted one from a specialty shop.
What you will need: a black onesie, orange and felt fabric sewn into a pumpkin one-piece suit and beanie, and black shoes
5. Baby Sushi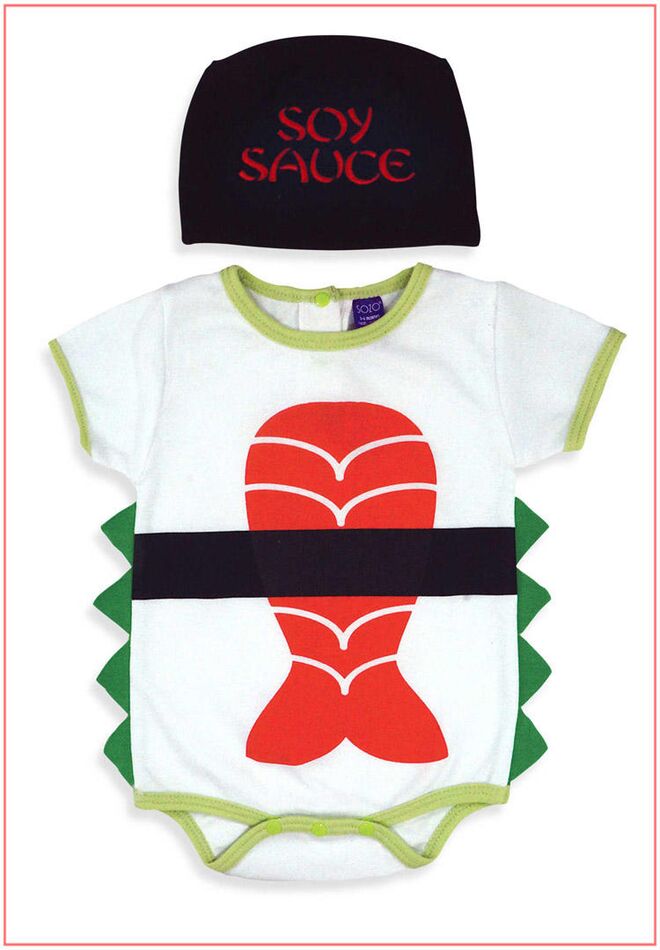 Let's face it. Character and creepy costumes are kind of common. If you want you're precious one to look uniquely adorable, going as a food item might be a refreshing change. Why not dress him up as delicious sushi? It's hilarious and cute at the same time!
What you will need: white onesie, orange and black fabric for design, green fabric for detail, and a black beanie with 'soy sauce' embroidered on it
6. Baby Spiderman
If there's one superhero that many young kids look up to, it's Spiderman. His web-slinging action-packed adventures are tales that any little kid loves to watch, and it doesn't hurt that you parents like him, too. If you want your little baby to become a superhero while still young, dress him up as your friendly neighborhood Spiderman.
What you will need: red onesie, blue fabric for onesie detail, black and silver fabric paint for smaller details, red beanie, and black socks
7. Baby Grandma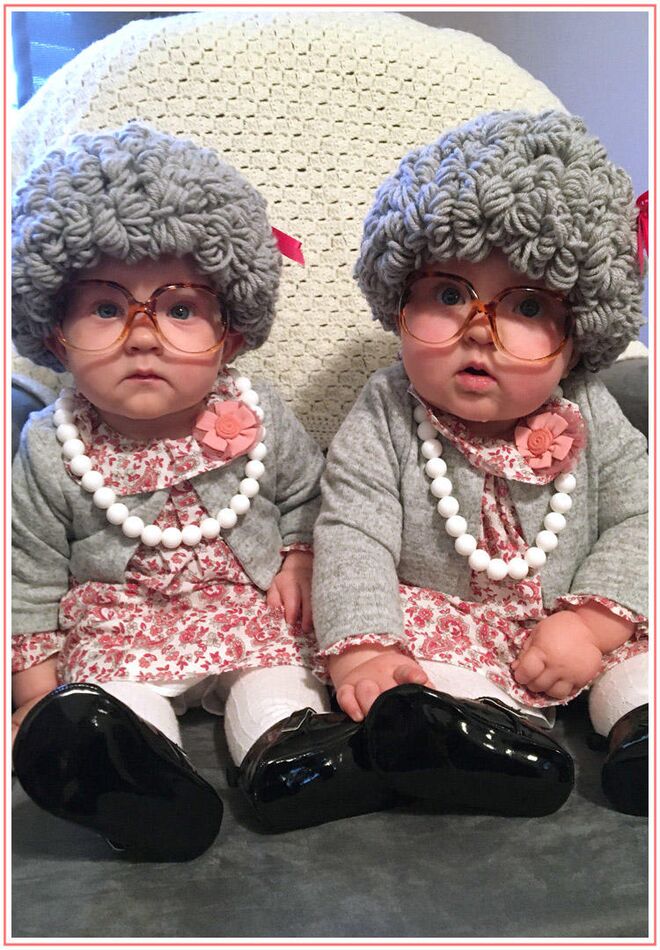 What's funnier than a baby dressing up as your tiny grandma? It's unconventional and downright hilarious. You can even provide her with a mini-walker if you want to. Not only will she look a lot different than her peers, she'll probably roll around the ground laughing when she sees her pictures in the future.
What you will need: a floral dress, a fake pearl necklace, a gray cardigan, white leggings, black Mary Janes, fake glasses, and a knitted gray wig.
8. Baby Eleven from Stranger Things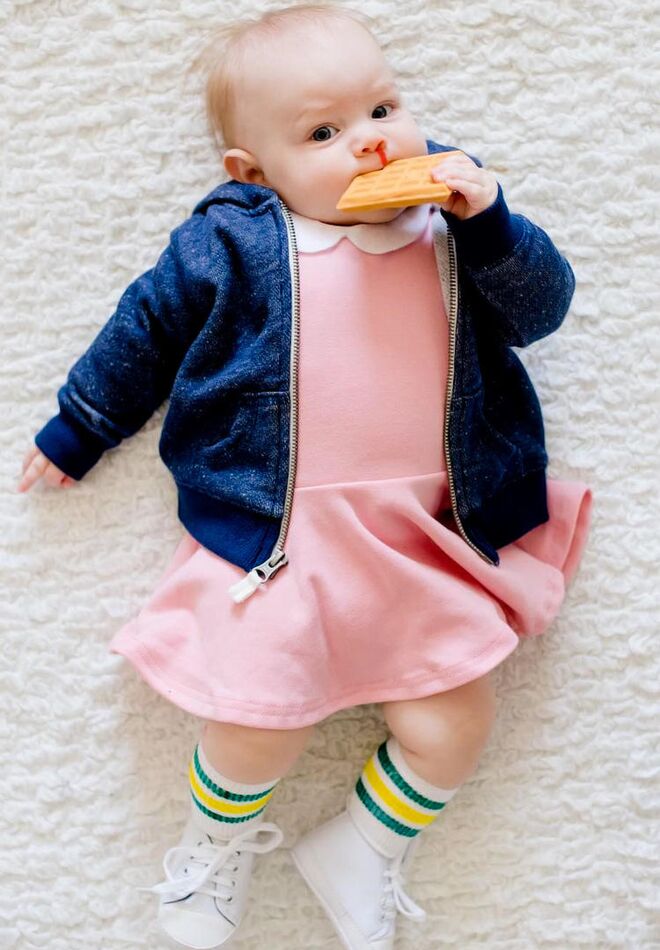 Eleven is a modern-day kid superhero that's rapidly gaining a really huge and dedicated fan base. It comes as no surprise that many little girls are dressing up as this powerful tween. Even babies are following suit. Give your baby a fake nosebleed and an Eggo, and you can transform her into this fierce young girl.
What you will need: a pink collared dress, blue denim jacket, white socks with green and yellow stripes, white shoes, fake blood, and a waffle
9. Baby Pennywise from It
Cute and huggable just ain't cutting it out for you? You really want to go terrifying this creepy season! Well, dress up your little one as Pennywise and gleefully watch everyone run away screaming. You can definitely embrace the Halloween spirit knowing your baby's going as a psychotic, murdering, clown.
What you will need: a white long-sleeved sweater, white pants, extra white fabric for ruffles, 3 red buff buttons, red-striped socks, non-toxic face paint, and a few red balloons
10. Boss Baby
Well, if we're being honest, your baby is definitely the boss of the family. If he gets hungry, you go and get him the food. If he's unhappy, you go out of your way to make him laugh and smile. The Boss Baby is a very apt costume for him to wear, don't you think?
Show off your little one this Halloween with these amazingly creative costumes!
Your baby will only have one 'First Halloween' so you better make sure that he gets a really fun and memorable one. Don't forget to document the moment so that you can laugh and reminisce when he grows up. What are you waiting for? Get your baby a cheap and cute costume now!