10 Neat & Imaginative Costume Ideas for Blondes for Cosplay & Halloween 2023
There's a lot of advantages to having naturally light colored hair. You can keep changing it to different colors without having to use harsh bleaches. So you have a rainbow of choices to pick from, from conservative raven to unique aquamarine.
That's why a lot of costume ideas are so much easier for you to achieve! But if you don't want to change your hair color, don't worry! You can still have your pick from a lot of choices.
Here are a few
Iconic and creative costume ideas for blondes that you can do this Halloween:
1. Marilyn Monroe
One of the most iconic blondes in history is also considered one of the sexiest women to ever live. Yes, that's right! Why don't you channel your old Hollywood glam dressed up as the beautiful and voluptuous Marilyn Monroe?
What you will need:
2. Betty Cooper from Riverdale
Another blonde that's making waves today in the small screen is Riverdale's Betty Cooper. Nope, she's not just her usual girl-next-door. The Betty of today has another wilder side that just makes the audience want more. Why not wear a Vixen uniform and ask your best friend to be Veronica so you can go as a blonde and brunette power duo?
What you will need:
Betty Riverdale Vixen – white long-sleeved turtleneck sweater, customized Riverdale Vixen cheerleading top and skirt, white ankle socks, white sneakers
3. Madonna from Like A Virgin Music Video
Madonna was the queen of pop back in the 1980s. She's influenced so much of the fashion style there. If you're asked to wear something '80s themed, there's a good chance that you'll go full Madonna-esque. Why not try on her sweet look in Like a Virgin?
What you will need:
Madonna – black bralette, white sheer sleeveless top, white tutu, white fishnets, white heels, white fishnet fingerless gloves, multi-layered black and white pearl necklaces, giant white bow headband
4. Supergirl
If there's a Superman in the DC multiverse, it's safe to say that he has a female counterpart as well. Supergirl is his first cousin and she's gaining a huge following ever since getting her own television series. Her timing is just perfect! Now that girl power is on the rise, female superheroes are becoming more and more important!
What you will need:
Super girl – blue long-sleeved leotard, red mini-skirt, gold fabric for belt detail, red superhero cape, DIY Supergirl insignia, red knee-high boots
5. Eleven from Stranger Things
Sure, her hair in the story was only a blonde wig but there's no denying that Eleven is blonde girl especially when she grew her hair out in Season 2. She's not your typical supehero, but Eleven's supernatural powers has wow'ed the world. The television series Stranger Things is a worldwide phenomenon. So going as Eleven for Halloween will surely make people appreciate your costume all the more!
6. Barbie
The great thing about Barbie is that everybody knows her and she has all these iconic looks that you can use as Halloween costumes. I think she might be the most famous blonde of all time! There are so many ways to dress up like her. You can choose from classic popular doll models or the movie versions. With so many choices to choose from, you can even make it a tradition to go as a different Barbie every single year!
What you will need:
Barbie Swan Lake – petticoat, blue billowing maxi skirt, extra pink and blue fabric for skirt, bustier, and armband detail, pink bustier, DIY Swan Lake necklace and tiara
7. He Man
If there was a Barbie for little boys during the '80s, it would probably be He Man. He was the main character of both a comics series and animated show. He Man is a medieval prince and protector of the fictional Eternia. He has superhuman strength and a very recognizably unique costume.
What you will need:
He Man – EVA Foam for chest armor, wristbands, and sword, epoxy resin for red gem details, assorted acrylic paints, brown faux fur fabric for loin cloth, brown moccasin boots
8. Tyrion Lannister from Game of Thrones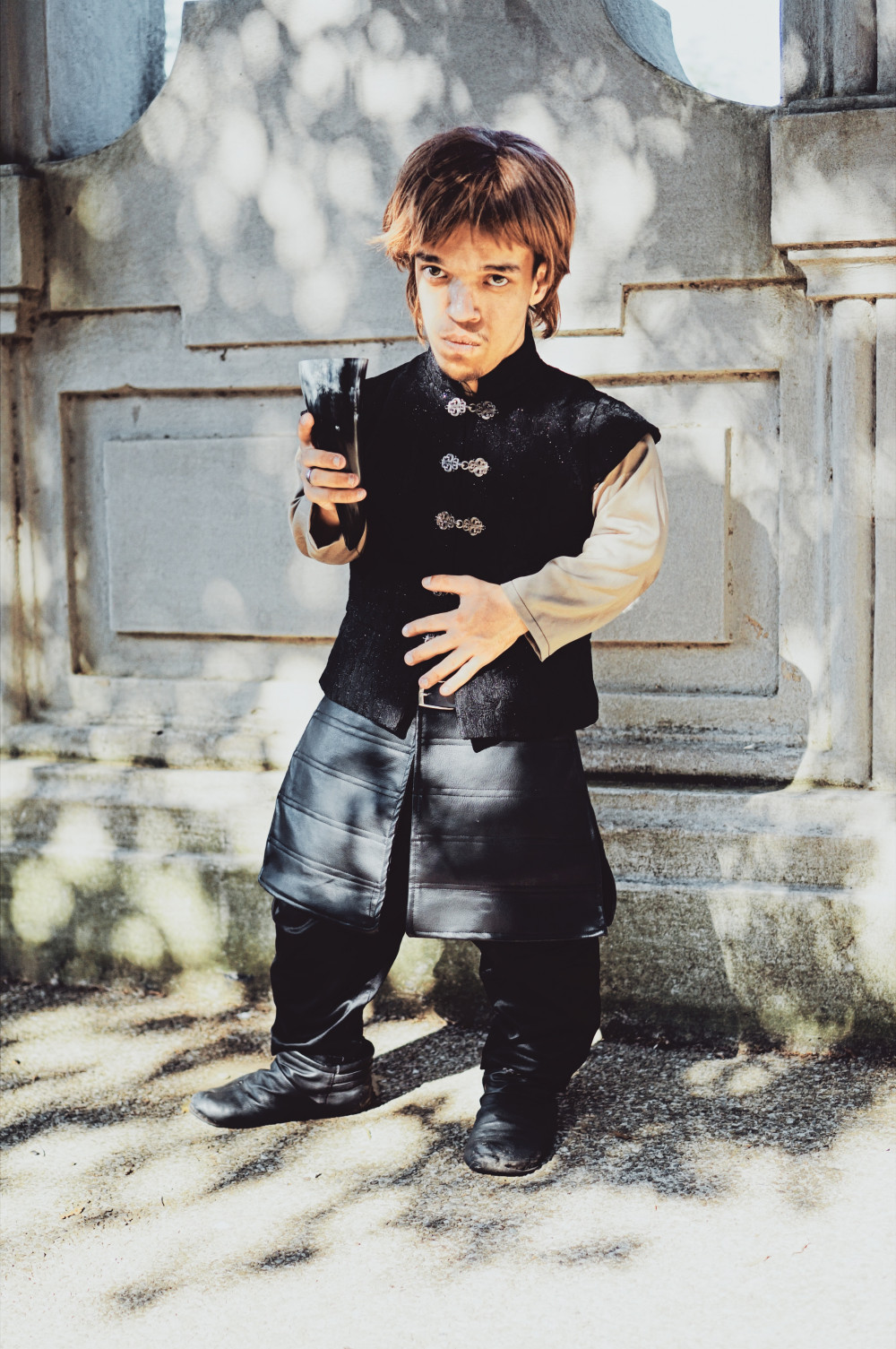 There's a lot of reasons why Tyrion is such an enigmatic character to watch. He's not overly good yet he's not evil as well. Plus, his being in the small screen represents a minority that we don't often see get as big a role as his.
What you will need:
Tyrion – black pants, black boots, medieval white tunic, medieval black vest, black cloth, medieval goblet
9. Thor
One of the modern quintessential blonde movie characters today is Thor. The god of thunder is an ally of the famous Avengers and he is one of the reasons why the Marvel Cinematic Universe is as big as it is today. He also loves his long blonder hair and we were all heartbroken when it was cut-off. But you can fix that! Just wear Thor's hair long this Halloween!
What you will need:
Thor – black pants, silver shirt, silver patterned fabric for shirt and pants detail, red fabric for arm detail and cape, EVA Foam for armor, wristbands, leg armor, and Mjolinir detail, black boots, assorted acrylic paints
10. Johnny Bravo
The beloved playboy of the '90s would probably be Johnny Bravo. He's annoyingly narcissistic and that's mostly the reason why he couldn't land himself a girl. Nevertheless, his adventures are entertaining to watch. If you want to be a hilariously self-centered guy this trick or treat season, go as Johnny Bravo. He's the perfect choice!
Be legally blonde and blonder this Halloween and dress up in these memorable costumes!
See, you don't need to change your hair color to be someone awesome this spooky season! There are tons and tons of blonde-themed choices for you to try out. So choose one and rock it while celebrating Halloween this year!