10 Sexy & Creative Costume Ideas for Black Women for Cosplay & Halloween
It's the time to celebrate diversity! More and more people are being open to being widely different from each other. It doesn't matter whether you have a different gender preference, a different religion, or a different skin color! People are embracing the unique! So why don't you show them your pride!
Be proud of what you look like and channel your inner goddesses this trick or treat season! Here are
10 amazing costume ideas for black women:
1. Beyonce
If there's someone who continually gives black women ideas about embracing yourself and powering up your self-confidence, it's Beyonce! Beyonce is a singing powerhouse that has inspired many a man and woman in this generation alone. Sure, she's had a lot of iconic looks throughout the years but that's what makes her a good costume choice! You can choose the one you like the best and channel your best Beyonce.
What you will need:
Beyonce – black halter dress, extra black fabric for multi-layer skirt, gold fabric for top detail and wristbands, black fishnet tights, long wavy dirty blonde wig
2. Michelle Obama
Speaking of powerhouses, another great idol to look up to is former First Lady Michelle Obama. She's the first black First Lady and her husband is the first black President. Both of them have done countless good deeds and have inspired many people throughout the years. The best part? It doesn't take much to copy Michelle Obama's look.
What you will need:
Michelle Obama – blue and white-striped dress, black tights, pink cardigan, thick black belt, black Mary Janes, pearl earrings, puffed-up shoulder-length brown wig
3. Michonne from The Walking Dead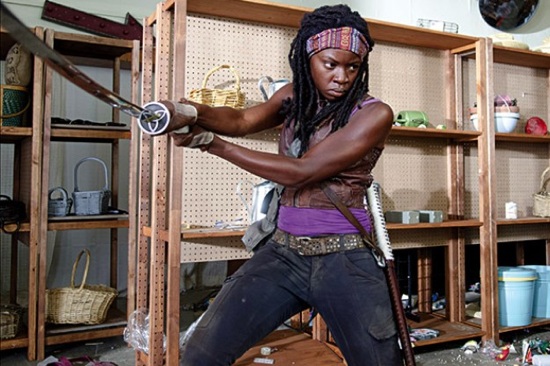 A fierce warrior and a loving woman, Michonne drew the short stick in life. She lives in a zombie-infested world where survivors are also as violent as their undead enemies. She's lost many friends along the way but she still refuses to give up. You may think that with such a hard life, she'd forget how to love. But that's not the case. Michonne still loves so fiercely and passionately.
4. Missandei from Game of Thrones
Although she was enslaved for most of her life, Missandei learned no less than 19 languages. This made her very valuable but nevertheless was given to Daenerys and remained with her even after she freed all the slaves. She is fiercely loyal and highly intelligent, and she now serves a trusted advisor and Handmaiden to the Khaleesi.
What you will need:
Missandei – light blue infinity dress, thick gold belt, gold neck clasp, curly afro wig
5. Cardi B.
Sure, she's not the best role model of the century, but you gotta admit that Cardi B. can be hilarious sometimes. She's also a very decent rapper and her style is quite something as well. She's perfectly falls in the love her or hate her category. But if you want to channel some Cardi B. in your Halloween time, why not?
What you will need:
Cardi B. – sequined bra, pink high waist tights, silver stiletto heels, faux fur coat, bedazzled mike, large sunglasses, long black ponytail wig
6. Akasha Queen of the Damned
Queen of the Damned was a horror novel written by famous author, Anne Rice, in 1988. It was made into a film in 2002, and it has become a cult classic since then. If you want to channel your inner vampiric Pre-Egyptian empress, why not? Akasha looks exotically beautiful and you can definitely pull her off!
7. Princess Tiana
You know Disney is also advocating for diversity now that they've made a dark-skinned princess. And people are loving it! The best thing about Tiana is that she's very hard-working and career-driven. Sure, she falls in love with a rich, handsome prince, but her drive to do the thing she loves equals that as well. Aside from kissing frogs, she's a good role model to follow.
8. Lieutenant Uhura from Star Trek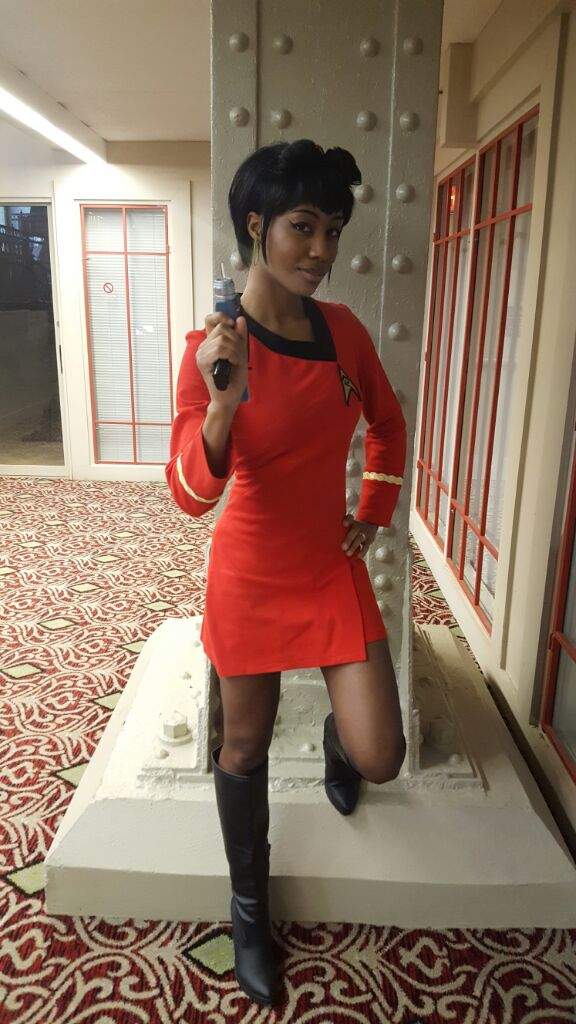 Lieutenant Uhura was a human Starfleet officer from Star Trek. She was the communications officer of the USS Enterprise and worked under Captain Kirk. Her stay with the fleet showed that she had a great aptitude for mathematics, and commendable leadership skills as well.
What you will need:
Lieutenant Uhura – red Starfleet officer dress, Starfleet badge, black knee-high boots, small handgun, black bob-cut wig
9. Storm from X-Men
Storm is one of the most famous X-Men superheroes ever. She is actually a tribal princess named Ororo. Storm was super popular not only because of her immense powers but what she represents. She was the first black female superhero ever written and arose to such great popularity that she was once equaled to DC's Wonder woman.
What you will need:
Storm – revealing black one-piece swimsuit, black cape with golden lining, circular red gemstone, DIY head dress, long straight white wig, special contacts
10. Tia Dalma from Pirates of the Carribean
Ever since her first scene in Pirates of the Caribbean, everyone knew that Tia Dalma was mysterious and dangerous. Not only is she a mystic and Voodoo priestess, but she has supernatural powers that are just pulsing with power. That's because this slightly crazy-looking woman is in fact, the sea goddess Calypso. And the pirates saw just how bad a sea goddess can get when she's mad!
What you will need:
Tia Dalma – scrap fabric of different patterns and textures to customize Tia Dalma's skirt and gown, red tube top, white fishnet fabric to overlay on the tube top, golden pendant necklace, bottle of liquor, long brown dreadlock wig
Show your African-American pride with these awesome Halloween costumes!
There are so many other choices you could pick as a black woman, Halloween costume ideas are around every corner! It doesn't need to be someone famous from the big or small screen. You can choose book characters and even real-life people. You could also bend your favorite characters to fit what you need. The most important thing is to have fun!