10 Funny & Cute Costume Ideas for Best Friends for Cosplay & Halloween 2023
Going to a costume party with your most favorite person in the world is fun on its own. But do you want to make all the more fun? Dress as a pair! There's nothing more memorable and picture-worthy than having a grand time with your best friend dressed as your favorite superheroes, characters, or even food!
Stop worrying about what you need to go as, there's so many choices out there! Here's a list of the top 10 cool costumes you can wear with your BFF:
1. Thing One and Thing Two from Dr. Seuss
If you're into mischief and mayhem, you and your best friend would probably be very fitting as Thing One and Thing Two. It's the perfect partner in crime pair, if you're looking for a matching costume.
2. Mario, Luigi, and Princess Peach from Super Mario
Ahh, who doesn't love the retro games of the '80s! And who says you can't have more than one best friend, right? Relieve your childhood memories with your two best friends as Mario, Luigi, and Princess Peach!
What you will need:
Mario – blue overalls, red sweater, red hat with 'M', black shoes, black mustache
Luigi – blue overalls, green sweater, green hat with 'L', black shoes black mustache
Peach – pink dress, long white gloves, wavy blonde wig, golden tiara
3. Lilo and Stitch
Ohana means family, and family extends to your best friend! Dress up as the iconic Hawaiian Disney duo Lilo and Stitch to level up the beach vibes this Halloween. This super adorable costume is good choice for 2 best friends.
4. Chips and Salsa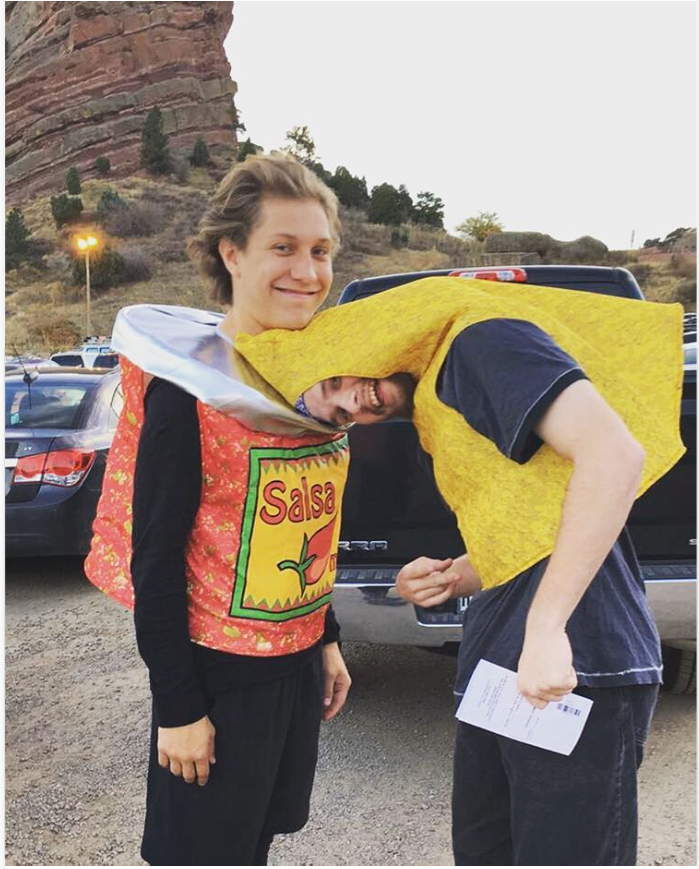 It won't be surprising if the favorite pastime you do with your bestie is eating. Everyone loves to eat with their fave person in the world! So it's super okay and hilariously entertaining if you go as your favorite BFF snack! Chips and Salsa, scrumptiously funny!
What you will need:
Chips – black shirt, black pants, textured yellow fabric sewn into a triangular chip
Salsa – black shirt, black pants, board paper for shaping, textured red fabric for salsa body, metallic silver fabric for salsa lid
5. Tweedle Dee and Tweedle Dum from Alice in Wonderland
Best friends… twins… what's the difference? You think so alike and move so alike that people always mistake you for being one and the same! Well, why not channel your indistinguishable characteristics by wearing a cute Tweedle Dee and Tweedle Dum costume.
What you will need: yellow top, red skirt, knee-high black boots, big blue ribbon, red cap with a yellow flag on top
6. Mermaid Man and Barnacle Boy from Spongebob
Time to show off your Spongebob affinity! While the obvious route is to go with the ultimate duo Spongebob and Patrick, you can also go the unconventional but equally amusing way: as Mermaid Man and Barnacle Boy.
What you will need:
Mermaid Man – orange top, black shorts, green leggings, green gloves, gold belt, purple seashell stick-ons, fluffy pink slippers
Barnacle Boy – red long-sleeved sweater, black shorts, white leggings, blue gloves, mint ascot, navy rubber boots
7. Alvin and the Chipmunks
There's a lot of singing trios in the world that you can go as but none as cool and funky as Alvin and the Chipmunks. These youngsters may dress simple but their style is globally iconic!
What you will need:
Alvin – red sweater with gold 'A', black leggings, red cap with gold 'A'
Simon – blue sweater, black leggings, black glasses
Theodore – green sweater, black leggings
Additional: non-toxic face paint, DIY chipmunk ears headband
8. Peter Pan and his Shadow
Go back to the classics with the boy who doesn't age and his most constant companion! Peter Pan and his equally mischievous Shadow is a great and entertaining best friend costume set that many people will definitely love seeing.
What you will need:
Peter Pan – green medival tunic, olive green pants, brown belt, extra light green fabric for detail, yellow shoes, Peter's hat, Peter's sword, and Peter's wooden harmonica
Shadow – all of Peter Pan's clothes painted black
9. Sully and Mike from Monsters Inc.
If you want to be adorable monster this creepy season, there's no one better to go to as the ultimate scare team in Monster World: Sully and Mike! They're the perfect partners, brains and brawns with a whole lot of heart.
What you will need:
Sully – blue Sully t shirt, purple tutu, black leggings, purple headband
Mike- green Mike t shirt, green tutu, black leggings, green sweatband
10. Woody and Buzz from Toy Story
When it comes to Disney, there's no better best friend story than that of Woody and Buzz. Sure, they have lots of differences but that's what makes them such a great team! "You've got a friend in me" is a nice and heartwarming motto to have.
What you will need:
Woody – yellow t shirt, red bandanna, brown cowboy hat, blue tutu, black leggings, brown cowboy boots
Buzz – Buzz tank top, gray and green tutu, black leggings, brown boots, white gloves with green detail, purple headband, Buzz wings
Have double the fun by dressing up in these wacky costumes with your bestest friend in the world!
Going together as pair will surely be an unforgettable experience; one that you can do every single year. But remember that the journey there is as important. So, try to spend time together while making your awesome costumes!