10 Cute & Easy DIY Costume Ideas for Teenagers for Cosplay & Halloween 2023
You only get to be a teenager for a few years, so you better savor your time! This is the time where you're still a playful kid but with a little bit more freedom to do what you want. So, if you want to dress up for Halloween, go do it! Whether you want to go trick or treating with your friends or go out solo, there are many costume ideas waiting for you to discover.
To help you get started, here are 10 clever & awesome costume ideas for teenagers:
1. Rachel Green from Friends
It's the era before another millennium, the last hurrah of the 20th century and we rocked it! You may not have been old enough to remember the 1990s, much less experience its genuine fashion but there's a huge chance you've watched Friends (it's just one of the most beloved sitcoms of today, you know!).
Chances are, you're also familiar with the ever so stylish Rachel Green. She's the ultimate style icon of the '90s! So pay homage to the last fashion style of the 20th century by wearing a Friends-inspired costume.
2. Social Media Platforms
Ahh, the internet era is upon us at last, and Halloween costumes aren't safe from it as well! Today is the time where cellphones are a huge part of our everyday. Social media is ingrained in our routine. So why not come as a social media platform on your next costume party. It's a very easy, homemade project to do!
What you will need:
Snapchat – oversized yellow shirt with the Snapchat logo
Twitter – oversized light blue shirt with the Twitter logo
Pinterest – oversized red shirt with the Pinterest logo
Facebook – oversized blue shirt with the Facebook logo
3. Teenage Mutant Ninja Turtles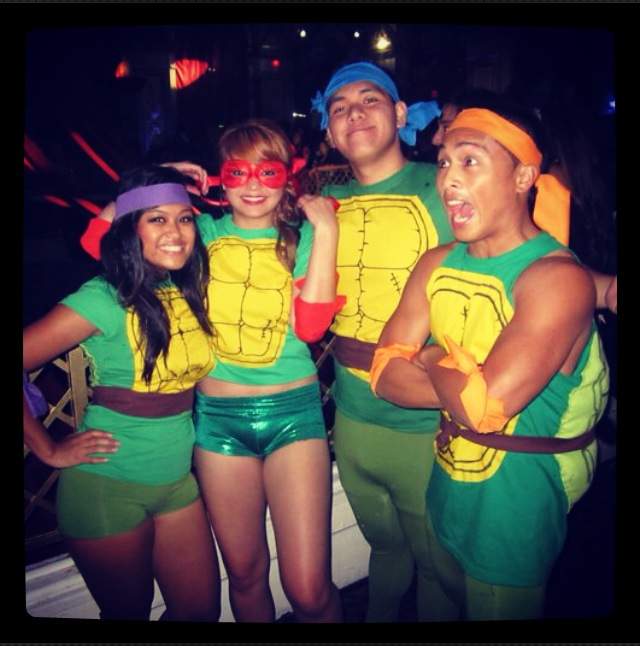 Another great '90s icon is the tv series that upped the popularity of our shelled reptilian friends. That's right! Raise your glasses to the Teenage Mutant Ninja Turtles. Relieve your childhood and wear the iconic look of these brave and skillful ninjas.
What you will need:
Female Donatello – Ninja Turtle shirt, light green shorts, brown fabric belt, purple fabric for headband and armbands
Female Raphael – Ninja Turtle shirt, green shorts, red mask, red fabric for armbands
Leonardo – Ninja Turtle shirt, green tights, blue fabric for headband and armbands
Michaelangelo – Ninja Turtle tank top, green tights, orange fabric for headband and armbands
4. Hipster Disney Princesses
Disney princesses would forever be timeless, and a classic choice for your Halloween costume. They're sweet and naïve, and everything you wanted to be when you were little. But, they can get a teeny bit boring after a while. So spice up your Disney costume by making the princesses modern-day hipsters!
What you will need:
Hipster Belle – white crop top, light blue denim overall shorts, book-themed eco bag, black-rimmed glasses, iconic Belle hairstyle
Hipster Aurora – white tank top, gray sleeveless dress with a black corset detail, black-rimmed glasses, blonde hair with a fringe, black mini-bow headband
Hipster Ariel – purple shirt, green mini skirt, fork, black-rimmed glasses, wild red hair
Hipster Snow White – blue shirt, yellow mini skirt, apple, black-rimmed glasses, curly black hair, red headband
5. Powerpuff Girls
What's great about being a teenager is … "you're not a girl but not yet a woman"! So you can dress up as your favorite kiddie characters and still look acceptably cute. If you've ever wanted to be a superhero, why not go as the Powerpuff Girls with your friends?
What you will need:
Bubbles – blue sleeveless turtleneck dress, black fabric belt, white tights, black Mary Janes, short blonde hair tied in pigtails
Blossom – pink sleeveless turtleneck dress, black fabric belt, white tights, black Mary Janes, long auburn hair tied in a half updo, red hair ribbon
Buttercup – green sleeveless turtleneck dress, black fabric belt, white tights, black Mary Janes, short black hair
6. Adventure Time
Going back to the present and cartoons are still super popular! One cartoon that managed to stay afloat despite the numerous other forms of entertainment today is Adventure Time. You and your friends have a world full of characters that you can go as (and you can even gender bend them as well!) so group costumes are no problem!
What you will need:
Male Lumpy Space Princess – purple shirt, denim pants, DIY lumpy space princess wearable plushie OR Lumpy Space Princess
7. Harry Potter
The best thing about Harry Potter is that you can go solo or in a large group and people will easily recognize your theme. It's the perfect book week costume since you don't even need to be the main book character to show what book you're representing. All you need to do is wear a Hogwarts uniform, and people will know!
What you will need:
8. Ashley Spinelli from Recess
You're right, she's no Barbie but that doesn't mean Spinelli can't be an honorary Disney princess. She's not your typical girl-next-door because she's tough and wouldn't think twice about breaking your balls. But she's also very loyal and a closet sweetheart! She's definitely an unconventional character that kids from the '90s love. So, why not be her for Halloween this year?
9. Lydia Deetz from Beetlejuice
A Halloween list would not be complete without a creepy costume. Well in this case, it isn't terrifying but more or less gothic themed. If you're sick of going as Wednesday or Morticia from the Addams Family, you might want to try going as Lydia Deetz from Beetlejuice.
10. Betty and Jughead from Riverdale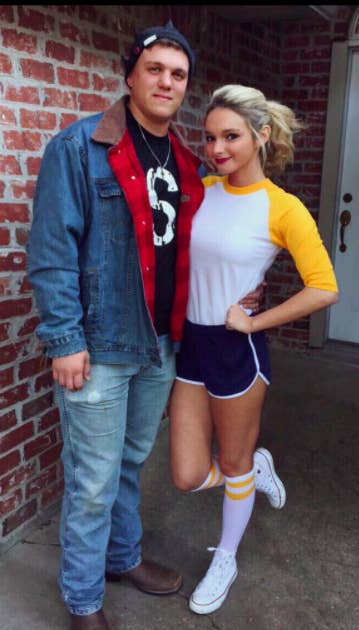 They're the hottest high school couple right now and they're not even original canon! The Bughead fever has swept the world thanks to CW's Riverdale TV series! Why not go as Betty and Jughead this trick or treat season?
Whether alone or with your friends, spend Halloween this year dress up to the nines!
Soon enough your teenage years will be over and adulthood will come swiftly to take you to a lifelong journey full of more fun and more responsibilities. Savor this time in the middle and go all out with your Halloween costumes. Invite your friends over and share a theme for unforgettable memories!