10 Cute & Clever DIY Costume Ideas for Twins for Cosplay & Halloween
What's more fun than dressing up for Halloween? Well, twinning it up is definitely two times more hilarious, two times more exciting, and two times more memorable! Get up and wear matching costumes with you twin this spooky season.
To give you double the inspiration, here's a list of cool and creative costumes you can wear with your 'better half':
1. Grady Twins from The Shining
If you want to be terrifying and evil for Halloween, you and your double would definitely love to go dressed up as the Grady Twins. Scare your neighbors in giving you as much candy as you want as the ghosts of the murdered sisters.
What you will need:
Grady Twin – light blue Sunday dress, light pink ribbon around the waist, white knee-high socks, black Mary Janes, non-toxic face paint, white hair clip
2. Mario and Luigi from Super Mario
If you and your twins love playing video games, you can go as Mario and Luigi. It doesn't matter if you're a pair of girls or boys, this game duo can be gender bent anyway you like! You can wear their typical overalls or create a Super Mario outfit out of tutus. Your choice!
What you will need:
Girl Mario – red t shirt, blue suspenders, blue tutu, black leggings, white knee-high socks with red stripes, red hair ribbon with 'M', white gloves, fake mustache prop
Girl Luigi – green t shirt, blue suspenders, blue tutu, black leggings white knee-high socks with green stripes, green hair ribbon with 'L', white gloves, fake mustache prop
3. Ketchup and Mustard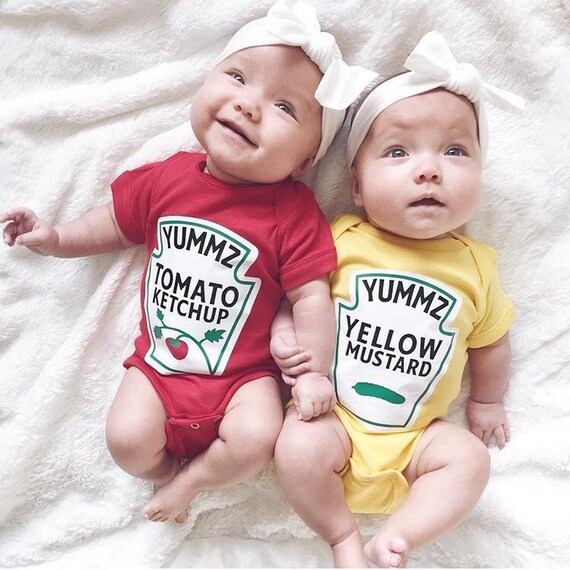 Oh, baby! If you are parents of twins and are looking for great toddler costumes, why not dress your precious pair as a funny Ketchup and Mustard duo? They'll definitely be a yummy duo during this spooky season!
What you will need:
Ketchup – red onesie, digitally printed logo OR ready-to-wear Ketchup costume
Mustard – yellow onesie, digitally printed logo OR ready-to-wear Mustard costume
4. Phil and Lil from Rugrats
If you want your babies to go as a funny pair this Halloween, you could always dress them up as the boy and girl duo from Rugrats. That's right, be the mischievous Phil and Lil for a day and wreak havoc in your neighborhood!
5. Wayne and Garth from Wayne's World
If you're running out of time to make elaborate and fancy costumes, why not go as the hilarious duo Wayne and Garth? It's quite easy to get all the pieces for this costume pair and you'd still have all the fun you want. It doesn't matter if you're an adult or you're just dressing up your kids, this is a good last minute costume to do!
6. Pebbles and Bamm Bamm from The Flintstones
Go back to the time of dinosaurs and rock your outfits as Pebbles and Bamm Bamm from the Flintstones. These little kids may have been mischievous during the prehistoric times but they have nothing on the amount of chaos you and your double can achieve this Halloween! Make 'em proud!
7. Oompa Loompas from Willy Wonka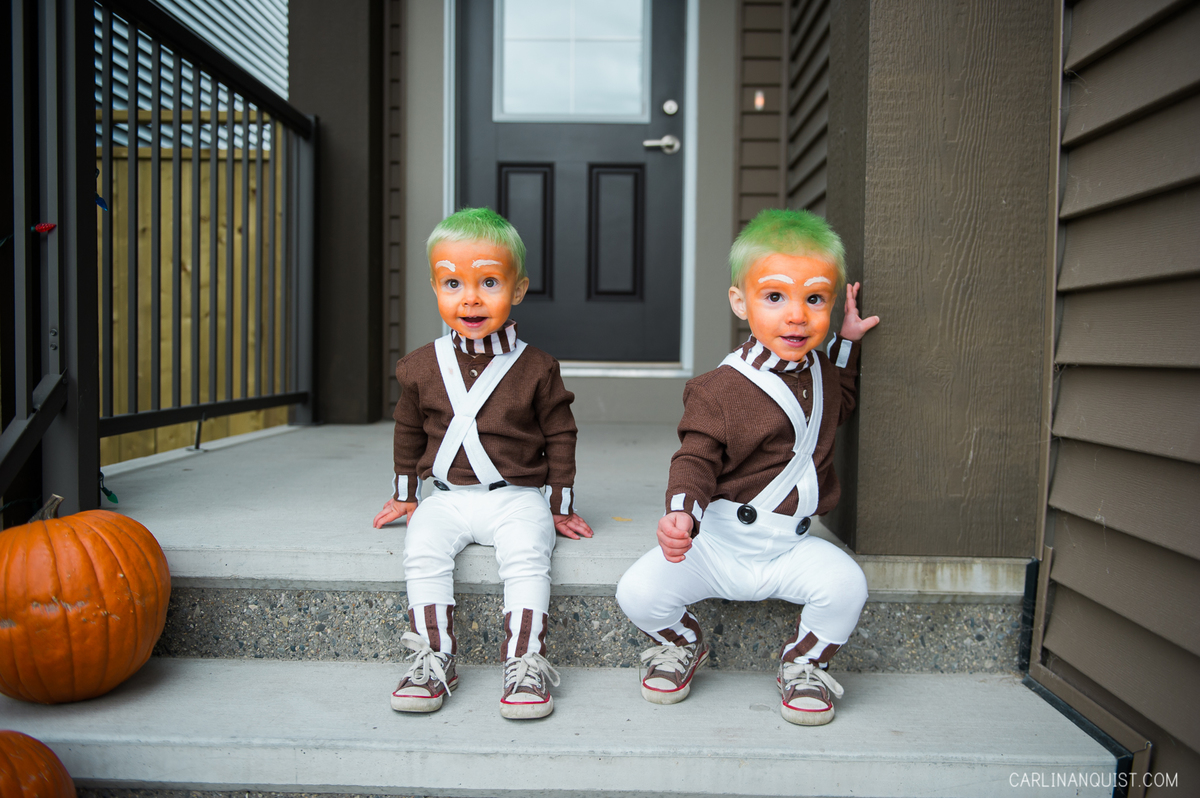 Another great costume for twinning is going as a pair of Willy Wonka's devious and hardworking candy makers. Think of all the mischief a pair of Oompa Loompas can do! Plot your plans on how to achieve candy domination this trick or treat season and make sure to succeed.
What you will need:
Oompa Loompa – brown long-sleeved shirt with a brown-striped collar, white suspenders, white pants, brown sneakers, non-toxic orange face paint, temporary green hair spray
8. Cabbage Patch Dolls
Another great baby costume for twins is a pair of Cabbage Patch dolls. This doll was a favorite back in the '80s and they're still super cute today. Dressing up your girls as Cabbage Patch kids will not only be funny but also nostalgic for you. You can even dress up their stroller as a Cabbage Patch doll box if you want to!
What you will need:
Cabbage Patch doll – light colored gingham dress, yarn hair wig
9. Elmo and Cookie Monster from Sesame Street
Sesame Street made the childhood of many kids bright and fun. It's no surprise that favorites like Elmo and Cookie Monster are still in years after their first debut. Although they're not really a pair, this two puppets can be seen a lot together. So why not dress up as your fave cuties from Sesame Street?
What you will need:
Elmo – red Elmo t shirt, red tutu, black leggings, red headband
Cookie Monster - blue Cookie Monster t shirt, blue tutu with cookie cut-outs, black leggings, blue headband with a cookie cut out
10. Thing One and Thing Two from Dr. Seuss
Another classic twinning opportunity has presented itself! Thing One and Thing Two are troublesome little mischief makers that are beloved to many fans. It's no surprise that many people would love to dress up as this pair of hilariously naughty 'things' and as babies are equally playful, the costume seems appropriate!
What you will need:
Thing – red long-sleeved onesie with digitally printed logo, crazy blue wig
Everything is more fun with your twin, including dressing up in Halloween!
Whether or not your identical, it's a really hilarious experience to wear matching outfits with your twin. Plus, it's a great bonding experience that you shouldn't miss. So, wear your themed outfits and go get as much candy and fun as you can!