18 Cool & Easy Family Costume Ideas for Cosplay & Halloween 2023
The family that trick of treats together, gets all the candy! Celebrate the spooky season by wearing matching costumes with all of your loved ones this Halloween! No matter how big or small your family is, there's surely a costume theme for you!
Read on below to get clever ideas for more family fun:
Family Costume Ideas for 3
1. Mike, Sully, and Boo from Monster's Inc.
Dress as one of the most iconic Disney trios that's captured the hearts of both little kids and their parents alike! Mike and Sully's hilarious adventures with Baby Boo in the Monster world had everyone laughing and crying.
What you will need:
Mike - Green t shirt with Mike's face drawn on it, black pants
Sully – Light Blue t shirt with purple polka dots, black pants
2. Fred, Wilma, and Pebbles from The Flintstones
Go far back to the past, to the land of dinosaurs and rock houses! Dress up as everyone's favorite prehistoric family, The Flintstones. You'd definitely feeling the rockin' vibes as Fred, Wilma, and Pebbles.
3. Red, Grandma, and the Big Bad Wolf from Little Red Riding Hood
Go down the fairytale route but remain a bit unconventional by dressing up as the unlikely trio from the Little Red Riding Hood. After all, Grandma, Little Red, and the Big Bad Wolf do make a nice picture for the albums!
What you will need:
Grandma – pastel dressing gown, curly gray wig, pink shower cap
4. Ariel, Prince Eric, and Ursula from the Little Mermaid
Another Disney-inspired theme for all fairytale lovers! Dress fancy and whimsical as Prince Eric and his beloved mermaid, Ariel, and be accompanied by a cute version of the sea witch Ursula.
What you will need:
5. Ash, Misty, and Pikachu from Pokemon
When it comes to candy, you definitely gotta catch 'em all! Go on a great Halloween adventure as Ash, Misty, and Pikachu from everyone's beloved Pokemon.
What you will need:
Ash – black shirt, blue and white collared button down shirt, denim pants, blue sneakers, green & black glvoes, Ash's cap, Pokeball
Misty – yellow long-sleeved top, denim shorts, red suspenders, red sneakers
Pikachu – yellow onesie, Pikachu hood, non-toxic face paint
Family Costume Ideas for 4
6. Super Mario
One of the best ways to celebrate Halloween is to go out dressed as your favorite game characters. A game that all generations seem to love is Super Mario. So, why not go as Mario, Luigi, Wario, and Princess Peach?
What you will need:
Mario – red sweater, blue overalls, Mario's red cap,
7. Star Wars
Slay as an epic family this spooky season and go as characters from the legendary movie franchise, Star Wars. Rule the galaxy as Darth Vader, Princess Leia, Obi Wan Kenobi, and a Stormtrooper!
8. Wizard of Oz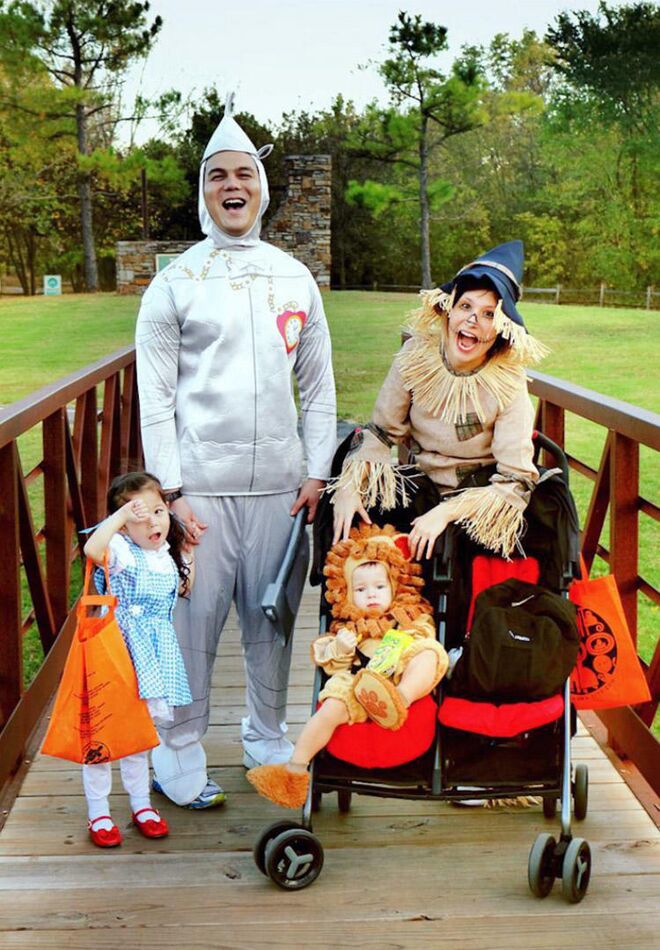 Walk down the yellow brick road (or whatever colored road your neighborhood has) as everyone's favorite group of friends traveling to Oz. Dress up as Dorothy, the Tinman, the Cowardly Lion, and the Scarecrow!
What you will need:
Dorothy – white puffed-sleeve top, blue gingham dress, red shoes, blue hair ribbons
9. Despicable Me
Even evil villains can find true love, and Gru found that with Lucy. Live your happily ever after with your minions in tow, and wreak havoc in town this trick or treat season!
What you will need:
Felonius Gru – black sweater, black pants, black shoes, black & gray scarf, bald wig
Minions – yellow hoodie, blue overalls, black shoes, black gloves, black goggles, black fabric for details
10. Zombie Attack!
Get your freak on and terrify the neighborhood as a family of the undead. No Halloween is complete without a scary costume theme, right? The best part is: you can customize your costumes any way you want!
What you might need:
Fake blood
Tattered clothes
Non-toxic face and body paint
Family Costume Ideas for 5
11. The Parr family from The Incredibles
Who says saving the world can't be a form of family bonding? Go out and have lots of hilarious fun dressed as The Incredibles: Bob, Helen, Violet, Dash, and Jack Jack!
What you will need:
The whole family – red compression top and shirt, tight black shorts, gold belt, black masks, black boots, black gloves OR customized The Incredibles full-body outfits.
12. Inside Out
Your emotions are important, and each of them does a very vital job in keeping you sane (as the movie Inside Out showed all of us). Why not wear your feelings for Halloween, literally? Dress as Joy, Sadness, Anger, Disgust, and Fear!
What you will need:
Joy – bright yellow green dress, blue bob cut wig
Sadness – light blue sweater, black pants, black-rimmed glasses, blue wig
Anger – red long-sleeved sweater, white button-down shirt, red & black tie, black pants, red wig
Disgust – green dress, green leggings, purple scarf, green wig
Fear – purple long-sleeved dress shirt, black & white vest, violet bowtie, purple gloves, light purple wig
13. The Belcher Family from Bob's Burgers
You don't need to dress fancy for Halloween if you don't want to. Even the simplest costumes can still look awesome as long as you spend it with your family. Why not go as Bob, Linda, Louise, Tina, and Gene?
14. The Addams Family
Gothic and classic, the Addams Family still remains to be the reigning royal Halloween family. They're the perfect example for creepy familial love. Who can top this family as the best group costume ever?
What you will need:
15. Arr Matey, Pirates!
Brandish your swords and get ready to sail the high seas as a band of pirates. Loot your neighbors' candy reserves for sweet and delectable treasures!
What you will need:
Man Pirate – white long-sleeved medieval tunic, brown medieval vest, brown arm bands, black pants, red hair sash
Woman Pirate – red tunic, brown waist corset, brown boots, brown arm bands
Girl Pirate – White long-sleeved tunic, brown sleeveless dress, red belt with gold buckle, red-striped leggings, brown boots, sword
Boy Pirate – white long-sleeved tunic, brown vest, red & brown-striped pants, short sword
Parrot – customized parrot hoodie, khaki shorts
Family Costume Ideas for 6
16. The Avengers
Another great superhero team to aspire to! If you want to battle inter-galactic species to save dear ol' New York while getting your much awaited candies, you might want to pose as the might Avengers for Halloween.
What you will need:
Thor – blonde wig, Thor full-body armor suit, red cape, Mjolnir replica
Hulk – Hulk full-body suit
17. Harry Potter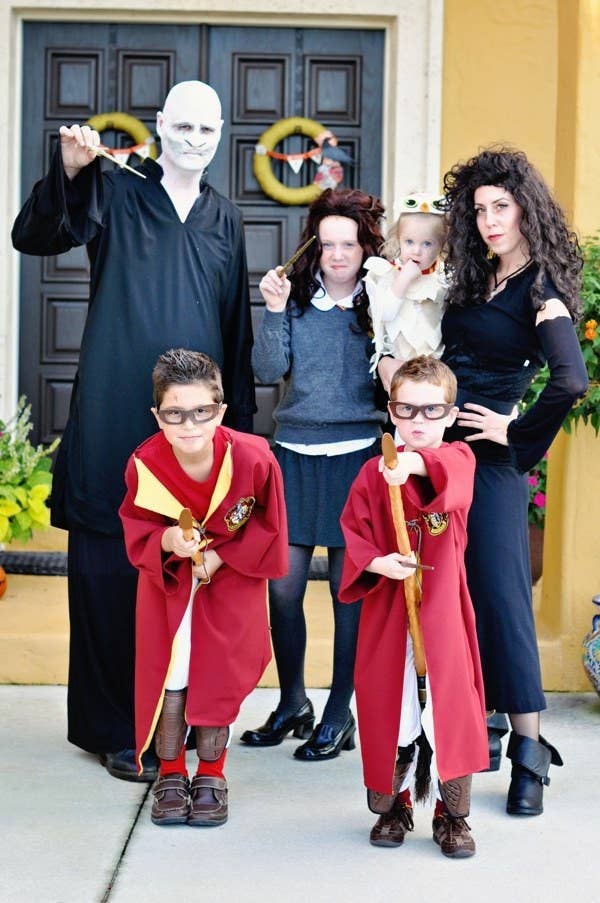 The best about Harry Potter (aside from the fact that it's the book of the century that is) is that there's a lot of characters you can go as. Each family member can just pick one and you'll all still be matching! It doesn't matter if you want to Hagrid, Draco Malfoy, or even Luna Lovegood because you can!
What you will need:
Hermione – white collared shirt, gray sweater, black skirt, black tights, black shoes, Hermione's wand
Hedwig – white owl headpiece, customized white owl dress
Gryffindor Quidditch players – red shirt, white pants, red and gold Quidditch robes, brown knee guards, red socks, brown shoes, brown glasses, broomsticks
18. The Circus is Here
Another lovely, fun, and clever way to show family unity is to dress up as the circus! There are so many characters you can portray and it's your choice who you want to go as!
What you will need:
Ringmaster – black shirt, black pants, red and gold Ringmaster's cloak, whip
Lion Trainer – khaki button down shirt, white pants, brown Adventurer's hat, whip
Tightrope Walker – glittery red ballerina dress, red hair ribbon, rainbow umbrella
Strong Man – customized full-body muscle suit, fake dumbbells
Popcorn Vendor – white button-down long-sleeved top, gray vest, black pants, DIY popcorn holder & popcorn bags
Lion – customized lion onesie, red cart, DIY lion cage
Create a memorable experience with all of your loved ones this Halloween!
Trick or treating in itself is an awesome activity, and dressing up your kids is a daunting but enjoyable task. But being parents does not mean you have to skip out on the fun! Make your Halloween all the better by dressing up with your kids.